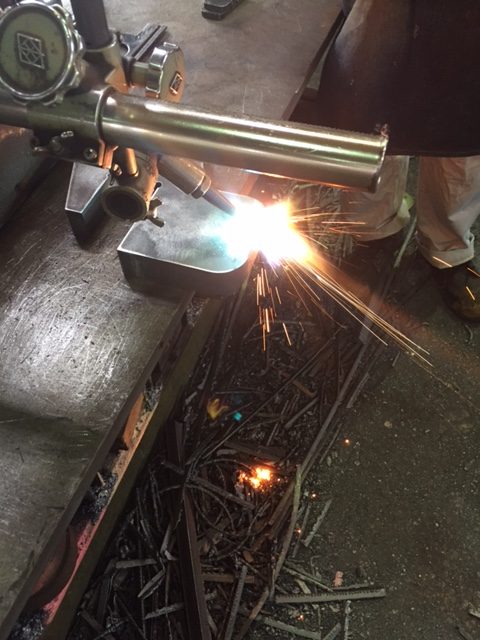 Good day, today let's introduce the bevel process for you.
您好!今日向大家介紹關於倒角加工工程。
It's a necessary process before carrying out the welding procedure. We utilize portable welding machine and the portable beveling machine to process straight line and R-shaped bevel work.
倒角工程在鋼材的應用上(特別是後續工程包含熔接時)是屬於不可或缺的一部分。 在敝司,我們使用手提式熔斷機或者手提式倒角機進行直線或是圓弧狀的倒角加工。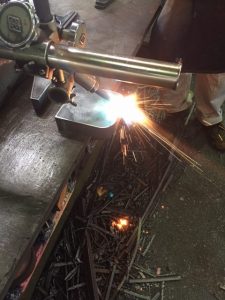 Since the small lot and various assortment of special steel, it might be hard to use the edge tool to process the bevel work, under this situation, we utilize the gas welding technic for the bevel process.
由於特殊鋼是屬於小單位多品項的生產模式,根據硬度的不同,可能不利於使用刃物進行倒角,就無法使用機械加工的方式進行倒角工程。這種情況下,則是利用瓦斯噴火的熔斷技術進行研磨。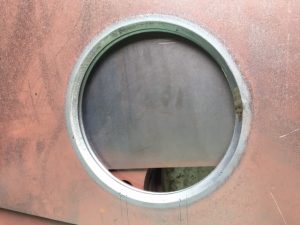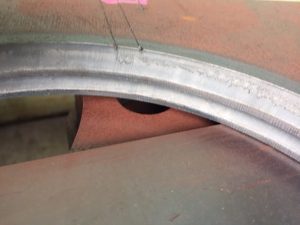 ↑ ↑ ↑As above picture showed, this material is WEL-Ten590RE (correspond to 60K high-tensile steel) There is the φ290mm hole with C5 bevel process on a 9mm thick steel.
上圖為WEL-TEN590RE材質的製品(相當於60kg的高張力鋼) 製品為9mm厚的鋼板內鑽出290mm的內孔,再進行c5的倒角加工。
Besides, the round bevel process is as below photo. ↓ ↓ ↓
另外, 非直角的倒角加工則如下圖所示。↓ ↓ ↓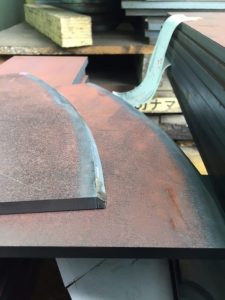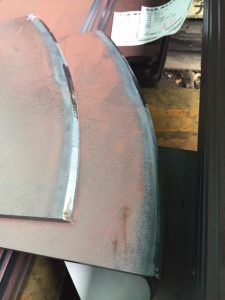 This is also the same material: 9mm WEL-TEN590RE laser cutting product, then process the bevel procedure.
這是在厚度9mm的WEL-TEN590RE鋼板圓弧切口的斷面上進行倒角工程。
Besides the welding purpose, bevel process could also be utilized on the front part of the excavator
倒角工程除了應用在熔接的前端工程以外,也活用在堆土機挖斗的前端部分。
In kumagai, nevertheless the order amount, R-shaped or the hole shaped, we are able to provide the bevel process for you. If you are interested in the special steel or the groove process, please don't hesitate to contact us!
在熊谷特殊鋼,不論是小量訂單,或者是圓弧倒角工程,圓孔倒角工程,都可相談加工可能性。 若是您對特殊鋼材或是倒角工程有興趣的話,歡迎隨時與敝司聯繫!
Please inquire for other kinds of special steel, in addition to other processing techniques.