2018 NEW Environment Exposition 2018環保展 耐摩耗鋼板 ABREX®

Good day!
Let us share the content of the 2018 Environment exposition, today!
Same as the last year, NSSMC display the ABREX series as the main promotional product.
Once you entry the venue, the big cutting icon will be in your sight.
And this icon is exactly processed by Kumagai!
大家好! 今天來跟大家報告此次環境展的實際展出內容
此次的環保展, 新日鐵住金跟前次一樣是以ABREX耐磨耗鋼板為中心展示
一到展場映入眼簾的就是敝司加工切割的大樣板!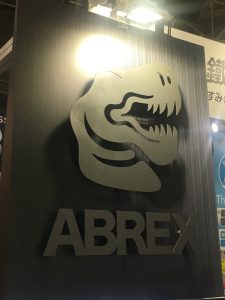 There are detailed description of the ABREX steel , also the sample for your reference.
You can also test the abrasion resistance of the plate directly in the venue.
現場有詳細的性能介紹以及樣品的展示
另外在現場也可以直接體驗ABREX鋼材的耐磨性測試!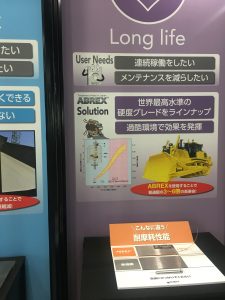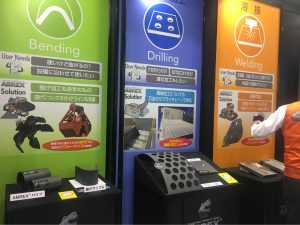 Additionally, we also capture the scene of the manufacturer who adopted the ABREX steel in their products!
Like the picture below, there are lots of cases of the ABREX used in the industrial machine such as grinder or cutting machine.
ABREX steel could substantially extend the life of machine.
同時敝司人員也在現場捕捉到採用ABREX鋼板的客戶唷! (由於機器的刀刃形狀屬於各公司機密,在此無法提供照片)
像這樣子使用在粉碎機,切割機等等工業機具上的案例不勝枚舉
採用ABREX鋼材可以大幅增加機具的使用壽命
There are still lots using example of the ABREX steel, we will keep you updated so, please stay tuned!
If you are interested in this series, please also don't hesitate to contact Kumagai!
想這樣子的使用範例還有很多! 敝司未來也會陸續介紹給您參考, 請持續關注敝司部落格!
若您對這個系列有任何興趣,請隨時與敝司聯繫唷!
***Contact Information 聯絡資訊***
Please E-mail us for inquiry. 歡迎來信詢問更多詳細資訊
https://www.kumagai-steel.co.jp/contact/index.html
https://www.kumagai-steel.co.jp/
Please inquire for other kinds of special steel, in addition to other processing techniques.