The using example of the ABREX® series ABREX®鋼材的使用範例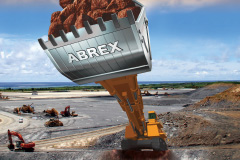 Good morning, every one! Today let's introduce the usage of ABREX (Abrasion Resistance Excellent steel).
早安! 今天來介紹ABREX 耐磨耗鋼板的使用範例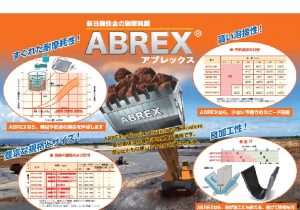 First is the usage for the lining purpose. Make the most of the abrasion resistance characteristics, adopting the ABREX for the parts under severe abrasive conditions. Drilling the holes at the four corners on a 400x400mm size square plate with thickness around 16-25mm, then paste the bolt on the plate.
首先是用在金庫,車體等內裏,內側鑲板用途的介紹 活用了ABREX鋼材耐磨耗的特性, 在磨損厲害的部分使用此材質 大小400x400mm厚度約16-25mm的正方形鋼板上的四角鑽孔後再嵌入螺栓。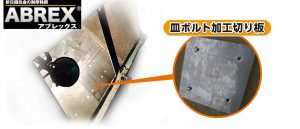 In kumagai, our clients could assign the thickness and the size of the plate, and we could provide the service for cutting and drill the hole.
在熊谷特殊鋼,客戶可以自由指定鋼板厚度以及尺寸,敝司可以提供切斷以及鑽孔的服務。
The lining parts also used in the cast metal. And the advantages of the ABREX are:
The small lot allow the size and thickness to changed easily.
The gas cutting and welding could process easily
內裏部材也被使用在鑄物上,而採用ABREX的優點為:
因每一批次小量生產可以自由的變更尺寸及厚度
是合簡易的瓦斯熔斷或是焊接作業,即使是在工廠稍微加工一下也非常方便進行!
There are still lots of use example for the ABREX series, tomorrow we will also show up at the 2018 environment exposition. If you are interested in this series, please don't hesitate to contact us!
像這樣的ABREX 耐磨耗鋼材的使用範例還有很多, 而明天敝司的人員(包含中文工作人員)也會到2018環保展的展場, 若您對這個系列有任何興趣,請隨時與敝司聯繫唷!
***Contact Information 聯絡資訊***
Please E-mail us for inquiry. 歡迎來信詢問更多詳細資訊
https://www.kumagai-steel.co.jp/contact/index.html
https://www.kumagai-steel.co.jp/
Please inquire for other kinds of special steel, in addition to other processing techniques.