We provide the SC series steel from stantdard size to cutting products!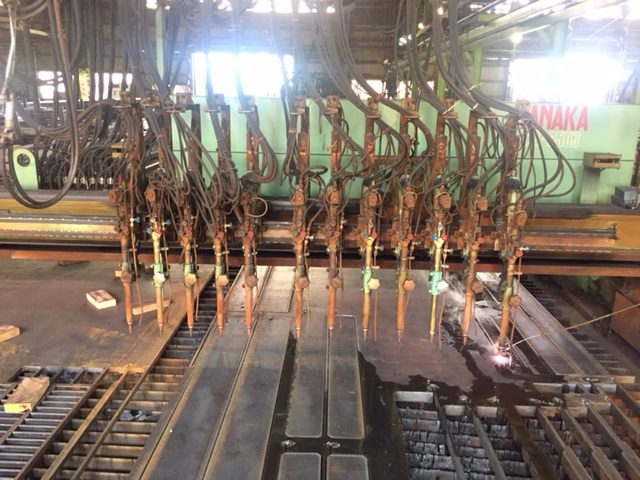 Good morning everyone,
Today let's introduce the product of the S55c material from SC series
早安! 今天來跟大家介紹 SC鋼材系列中的 中碳鋼S55C鋼材。
As you know, S-C series is the material with carbon content(and other content) be regulated. To the strength of the steel, usually, it's used after the heat treatment.
如同一般所認知, S-C鋼材是一種碳含量(以及其他成分)是受規範的鋼材 而為了要使鋼材達到一定的硬度,使用前一般會經過熱處理。
In kumagai, we sell the standard size material and the products after cutted.
Type : S45C、S48C、S55C
Thickness : 6mm~25mm(S48C up to 100mm)
Standard size : 4'x8' 、5'x10'(2Mx6M is also provided for S48C)
熊谷特殊鋼可以提供標準尺寸的鋼材以及切斷後的部材
材質:S45C、S48C、S55C
厚度:6mm~25mm(S48C上限為100mm)
標準尺寸:4'x8'、5'x10'(S48C也有提供2Mx6M的尺寸)
We could provide the cutting service for different assortment.
Base on your demand, the material could be delivered after heat treatment.
Especially, the S55C is the niche market without many processors providing the cutting service, our client could achieve their demand by using our service conveniently.
敝司可以針對各種材質及厚度進行裁切加工,根據您的需求進行熱處理加工後交貨。另外,市場上針對S55C系列鋼材提供切斷服務的業者並不多,客戶可以輕鬆的利用敝司的服務來達成他們的需求。
We have the range-wide selling accomplishment of the S-C series which are mostly used for general industrial machine, and industrial vehicle.
Meanwhile, we also recommend the Abrasion resistant steel (ABREX400、ABREX500) , high-tensile steel (WEL-TEN590, WEL-TEN780) for the purpose for the screen part.
在S-C鋼材的銷售實績中,敝司的製品廣泛地應用在一般產業機械、產業用車輛上。而敝司的耐磨耗鋼板ABREX400、ABREX500、高張力鋼板WEL-TEN590、WEL-TEN780也可同樣的運用在鋼鐵檔板上
The S55C is also used in the lining of the shot machine, which is as same as the NM-13Mn steel (Impact and abrasion resistant steel), S-C materials are used in the wide-field.
See more about the High Manganese steel  plate:
Introduce the High Manganese steel plate(Hadfield steel)
另外,S55C和NM-13MN耐衝撃摩耗用鋼板一樣也可以使用在表面處理設(例如:噴丸機)的內裏上,此種材質被廣泛應用在不同的領域中。
點擊下方資訊參考更多關於NM-13MN耐衝撃摩耗用鋼板的訊息!
This time we only introduce the steel plate, but we also provide the round bar for your demand.
Please feel free to contact first if you need the S-C steel material ((S45C、S48C、S55C)!
We look forward to hearing from you!
這一次只介紹了關於鋼板的資訊,因敝司也可以提供棒狀的鋼材,若有任何需求歡迎隨時向敝司詢問!
尤其是S-C鋼材裁切服務的諮詢,歡迎隨時洽談熊谷特殊鋼。
***Contact Information 聯絡資訊***
Please E-mail us for inquiry. 歡迎來信詢問更多詳細資訊
https://www.kumagai-steel.co.jp/contact/index.html
https://www.kumagai-steel.co.jp/
Please inquire for other kinds of special steel, in addition to other processing techniques.