Adotion case for ABREX® series / ABREX® 系列鋼材應用實例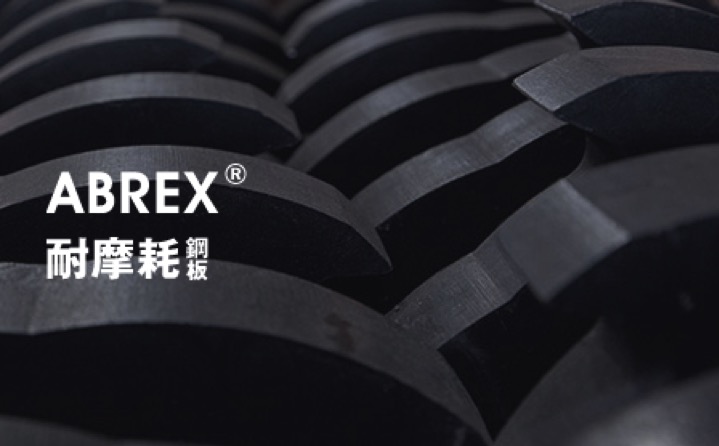 Good morning. Today we are going to introduce the using example of the ABREX® series. This time is the example used on the dump truck.
早安!今天來跟大家介紹關於耐磨耗鋼ABREX®系列用途的介紹。
這一次是使用在卸貨卡車上的範例。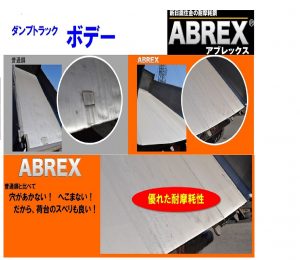 This is an adoption case of truck laying board. Comparing to the general steel, it can reduce the waste and time as the ABREX series could resist the dent and depression.
這是將ABREX使用在卸貨卡車內側鋼板上的案例。
跟普通鋼比較起來,較不容易因重物堆積造成內側凹陷以及過度磨損,因此可減低修繕的時間以及降低修補的次數。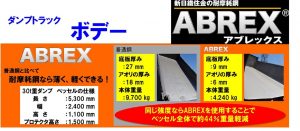 Also since the intensity is stronger than general steel, it could thin down the material to reach the weight reduction.
此外,由於強度大大高於普通鋼,可降低使用鋼板的厚度,藉此達到輕量化的效能。
Not only be used on the dump truck, there are also lots of ABREX adoption case for the parts under severe abrasion such as scrap truck etc.,
How about give the "MADE IN JAPAN" material a chance ?
不只是卸貨卡車的車腹,將ABREX素材運用在車腹容易磨損的廢棄物搬運車等等的案例也很多。
請務必將"MADE IN JAPAN"的素材作為採用的參考之一!
In Kumagai special steel, different assortment material for laying board is under good preparation. We can also provide the layer cutting service base on your requirement. (About the bending processing , please contact us for more detail.) If you are interested in the ABREX series, please don't hesitate to contact us!
在熊谷特殊鋼材,敝司備有車腹內板用途的各式鋼材, 也可根據您的希望進行雷射切割(彎曲加工則請另外詢問) 若是您對ABREX系列鋼材有任何興趣的話,歡迎隨時洽詢敝司唷!

***Contact Information 聯絡資訊***
Please E-mail us for inquiry. 歡迎來信詢問更多詳細資訊
https://www.kumagai-steel.co.jp/contact/index.html
https://www.kumagai-steel.co.jp/
Please inquire for other kinds of special steel, in addition to other processing techniques.