ABREX® Quietness plate 靜音鋼板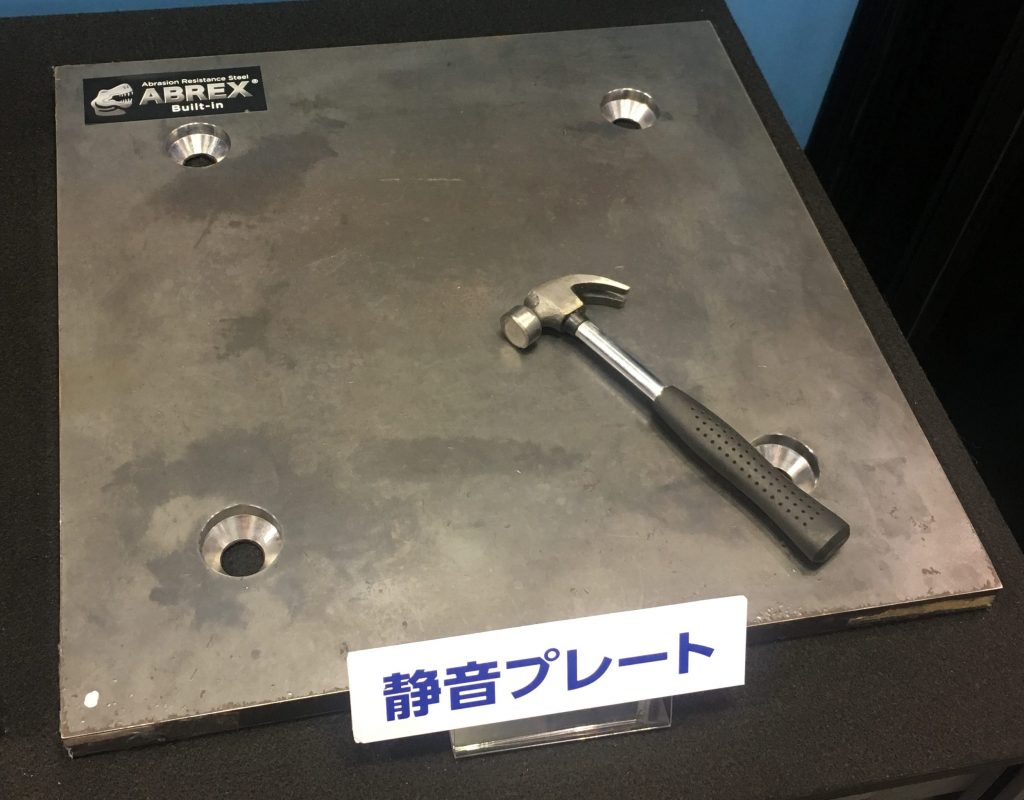 Good day, everyone!
Today let's continue the ABREX series instruction.
Below is the quietness plate developed by kumagai.
今天讓我們繼續介紹ABREX系列給您參考
下方圖片是敝司開發的靜音鋼板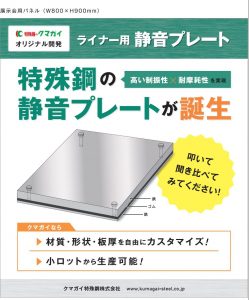 Since the purpose as a liner, the metal noise will occur. Deponds on the working environment, it might be necessary to wear the earplugs, then the working duration will also be limited. Therefore, we develop this kind of noise defending plate ,which could made the best use of the abrasion resistance characteristic of ABREX at the same time.
作為內裏用途,使用時常常產生讓耳朵不舒服的金屬噪音。
而根據職場環境別的不同, 有可能因為需要使用耳塞讓作業時間受到限制。
因此熊谷特殊鋼開發出這種活用ABREX耐磨耗特性又能抑制噪音的鋼材。
The sample of the noise defending plate also displayed in last week's environment exposition.
上周的環境展中也陳列了敝司的樣品給大家測試靜音程度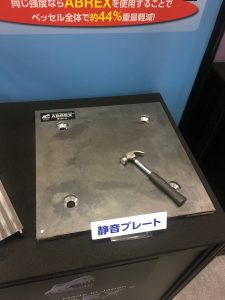 Based on client's demand of thickness shape, this quietness plate could also be produced under small lot.
This kind of plate is suitable for the crushing equipment and construction machine.
For example ↓ ↓ ↓
根據客戶對不同板厚以及形狀的需求,也可以進行小量生產, 這樣的產品非常適合使用在破碎機或者建設機器相關的產業上。
例如↓ ↓ ↓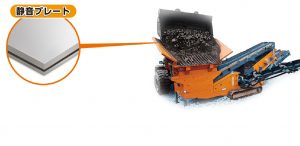 It's also possible be used in the gate of the outdoor crushing equipment.
Not only make use of the abrasion resistance, weldability, processability but with the noise defending characteristic, Please give our「quietness plate」a try !
Also please don't hesitate to contact us for more information!
像這樣也可以使用在室外的移動式破碎機設備斜板上,不僅是活用了ABREX的耐磨性,熔接性,加工性,另外更具備了靜音性的熊谷鋼材開發的「靜音鋼板」 請務必嘗試看看!
歡迎您隨時聯繫詢問更多資訊唷!
***Contact Information 聯絡資訊***
Please E-mail us for inquiry. 歡迎來信詢問更多詳細資訊
https://www.kumagai-steel.co.jp/contact/index.html
https://www.kumagai-steel.co.jp/
Please inquire for other kinds of special steel, in addition to other processing techniques.